Last week, the Federal Trade Commission sued Gerber Products Co. in federal district court in New Jersey, alleging that the company deceptively advertised that feeding infants Good Start Gentle formula would prevent or reduce the risk that the babies would develop allergies. The complaint also alleges that Gerber falsely advertised Good Start Gentle's health claims as FDA-approved. The FTC is seeking an injunction barring Gerber from making the allergy-prevention claims.
According to the FTC, Gerber does not have evidence to back up its claim that the formula reduces the risk of babies developing their parents' allergies.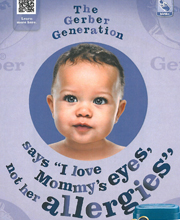 The FTC's press release explains:
In its complaint
, the FTC alleges that since 2011, Gerber has
advertised
its Good Start Gentle formula through advertisements that ran on television, in magazines, at point-of-sale displays, online, and in other promotional material. Good Start Gentle sells for about $24 for a 23.2-ounce package of powdered formula.
Good Start Gentle is made with partially hydrolyzed whey proteins (PHWP). Gerber claims that feeding babies this formula, instead of formula made with intact cow's milk proteins, will prevent or reduce the risk that they will develop allergies.
        ….
The agency's complaint charges that Gerber lacked the scientific substantiation to make these general allergy-prevention claims, in violation of the FTC Act.